Post by ISSALYN! on Jul 1, 2012 10:32:07 GMT -5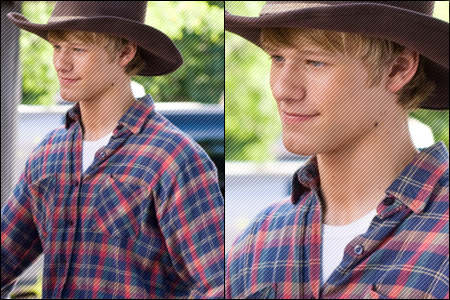 I JUST WANT TO MAKE SURE YOU KNOW
[/font][/size]
just who you're getting under
{ THIS OL HAT }
- - - - - - - - - - - - - - - - - - - - - - - - - - - - - - - - - -
[/font][/size][/sup]

Ethan slept very soundly for the rest of the night and didn't move a muscle. His eyes fluttered when he felt something moving in bed, and suddenly Aria's voice floated to him. He closed his eyes again, feeling out of sorts. Where am I? Why is Aria here? He reached up and rubbed his eyes before finally opening them and peeking out of them. He gazed around and as the fuzzy blobs grew into shapes, he realized he was in Aria's room. In her bed.

By now she left the room, getting dressed quickly while he lay in his muddled state. He jumped out of the bed as fast as he could, and as the covers fell off of him he looked down and realized he wasn't wearing his jeans anymore. Finally it dawned on him, and he remembered the events of the previous night. Coming to visit Aria, the storm, spending the night. However, the later part of the night was kind of blurry. He couldn't honestly remember taking his jeans off, and his face went ghastly white.

Oh my God. He'd slept in her bed, obviously. But a new fear struck him as he began to wonder what other parts of the night were currently evading his memory. Did we? ... No, surely not. He'd remember that sort of thing right? But a nagging fear stuck with him as he managed to find his jeans and zip them on, then slide into the shirt he'd worn over the night before. He slid his feet into his boots, and suddenly became scared to go downstairs and face everyone. What if her parents suspected something? What if they knew something he didn't. No, he couldn't face them right now. He sank down on the bed, weighing his options. He could just wait around until her parents headed out to work on cleaning up the property, and then use the excuse that his dad had called him home. But that wouldn't work. He didn't want to face Aria yet, and sooner or later she'd come looking for him.

He went with the only other option he could think of. He walked over to her window, slid it open, and climbed out. Before he could change his mind, he ran out to the front driveway, jumped in his truck, and roared out of the driveway. Thankfully there were no trees in the way, and he was quickly on the road and heading home. It was a few minutes before he patted his pocket and realized he'd forgotten his phone. Dern it, he thought. Well, there's no going back now. It was just as well he figured, now he'd have an excuse for why he wouldn't answer the texts or calls he knew she'd be making soon.



[/justify][/blockquote][/blockquote]
- - - - - - - - - - - - - - - - - - - - - - - - - - - - - - - - - -
[/font][/size][/sub]
cause girl i'm not the kind
{ TO TWO TIME OR PLAY GAMES BEHIND YOUR BACK }
[/font][/size]
I'M A LITTLE MORE COUNTRY THAN THAT
[/font][/size]

WORDS 650 STATUS complete NOTES aria

[/center][/size][/blockquote]